When:
October 17, 2019 @ 11:30 am – 1:30 pm
America/Los Angeles Timezone
2019-10-17T11:30:00-07:00
2019-10-17T13:30:00-07:00
Where:
New York Life 9th Floor
425 Market St
San Francisco, CA 94105
USA

Contact:
Albert G. Stoll, Jr.
415-576-1500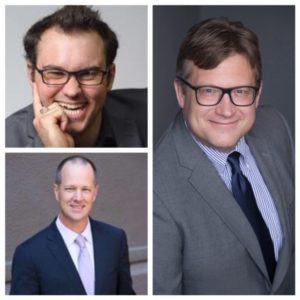 "The Systems and Strategies Behind a Profitable Law Firm" talk will be presented by Al Stoll, Leo Manzione, and Russell Goodrow
Russell Goodrow operates a boutique, personal injury law firm in San Francisco that has helped injured people for over 11 years. We take pride in placing our clients' health first to ensure an ideal medical and legal recovery. Our office has extensive experience in the trial courts, where we have tried over a dozen actions.
In August of 1994, Al Stoll founded the law firm now known as Albert G. Stoll, Jr. | A Law Corporation.  In his 24 years of plaintiffs law practice, Al has handled more than 40 personal injury jury trials where negligent drivers have caused injuries to other drivers, pedestrians, motorcycle and bicycle riders.  Al has also handled numerous premise liability, slip and fall, product liability, medical malpractice, police excessive force, and employment law cases. He enjoys practicing law with his two partners Walter Haynes who also handles personal injury cases and Jessica Juarez who represents employees in discrimination and wage and hour matters. Al Lives in Marin County with his wife Julie and three children.
Leo Manzione, Business Coach, Coaching Coordinator, and Partner at Run Right Consulting, lives to help people succeed. Whether that is doubling annual income or making a vacation possible while the business continues to grow, he is here to help. He meets with hundreds of international business owners and executives each year to assess whether or not working with Crystal is the right fit on both ends. If it is, he gets them started with one of the best investments they will ever make. If not, he makes sure they are on the path toward success nonetheless.
Join your hosts, Al Stoll and Leo Manzione, for more proven practices for successful law practice. Russell Goodrow will join as we discuss a specific opportunity each firm faces…
Are you fulfilled and earning your full potential within your practice?
Have you ever considered practicing in a different area of law?
When should you transition and when should you add?
What should you consider before pursuing either option?
How do I pursue either path successfully?
Success stories, as well as failures, from two firms in the SF Bay Area. One firm added an area of practice and another transitioned.
Specific tools, techniques, and systems that helped each firm succeed.
Strategies that apply to every stage of a firm from solo practitioner to multi-million dollar law firm. Whether or not they are adding or transitioning areas of practice.
Join us to learn what to expect and what's possible: increased income, a more resilient practice, different work, and more!
Session
11:30 am to Noon – Networking
12:00 to 12:15 Introductions
12:15 to 12:45 Speaker Presentation
12:45 to 1:15 – Audience Learnings
1:15 to 1:30 pm – Networking.